2022: Five threats to the global economy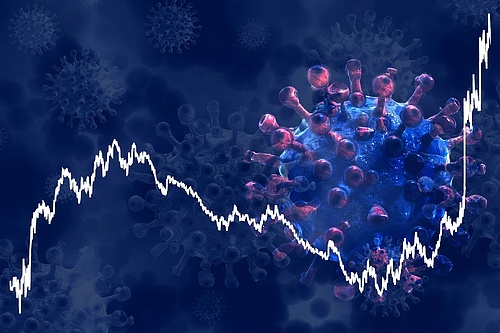 The recovery of the global economy is being held back by the ongoing COVID pandemic. But there are other risks to the economy. The five biggest problems.
At the beginning of 2021, things were still looking good: The global economy was picking up strongly. But a short time later, in the second half of the year, growth slowed. Torn supply chains, labor market bottlenecks, new Corona waves and the slow pace of vaccination, especially in low-income developing countries, all contributed.
As a result, economists at the International Monetary Fund (IMF) and the Organization for Economic Cooperation and Development (OECD) also adjusted their global growth forecasts for this year in October and December respectively.
For the time being, however, they made no changes to their forecasts for the coming year. However, they warned that new COVID variants could further stunt growth, making it immensely important to quickly vaccinate the vast majority of the world's population.
Vaccine-resistant COVID variants.
In November, the financial markets were surprised by a horror scenario: a new coronavirus variant had been discovered in South Africa: Omicron. It is highly contagious, which was also reflected on the stock markets. Financial and commodity markets crashed worldwide.
In the following week, global markets continued to fluctuate as investors had no clear idea of how Omikron might affect the economy. Corona restrictions have now been tightened in many countries to keep the variant in check. Companies are feeling the effects of this as well.
Hopes now rest on the fact that the Omikron variant, while more transmissible than the Delta variant, is not as deadly, and that vaccinated and recovered individuals continue to have some immune protection. While scientists analyze the data, strategists at JP Morgan have said that if the variant is indeed less deadly, Omikron could hasten the end of the pandemic.
However, even Omikron is not necessarily the end of the line. Other variants could emerge in the future that would throw the economic recovery off track. Experts have long warned that if the pandemic rages on, vaccine-resistant COVID variants could emerge.
"If COVID-19 continues to grip the world in the medium term, global gross domestic product (GDP) could be $5.3 trillion (4.6 trillion euros) lower in total over the next five years than in our current forecast," IMF Chief Economist Gita Gopinath said in October.
The top priority should be to fully vaccinate 40 percent of the population in each country in 2021 and at least 70 percent by mid-2022, Gopinath said. So far, however, only less than five percent of the population in low-income countries is fully vaccinated.
So the pandemic remains a major risk to global economic growth. But there are also other risks that are likely to keep investors on their toes in 2022.
Bottlenecks in supply chains
Supply chain disruptions have been a major factor in delaying the global recovery this year. Shipping delays and a shortage of shipping containers have reduced supply on one side. On the other hand, demand for many goods has surged after Corona restrictions were eased. As a result, manufacturers in many sectors are desperately seeking components and raw materials.
One of the hardest hit industries is the automotive sector. Many carmakers have had to cut back production time and again, or at times stop it altogether, because they lacked intermediate products, especially semiconductors.
Although there are signs that the supply bottlenecks are easing as more chips are produced and exported and transportation costs are falling, experts believe the supply shortages will continue to weigh on growth well into next year. "We don't expect the situation to ease in 2022. That will only be the case when new capacity for sea transport becomes available in 2023, or when companies reorganize their supply chains so that suppliers are once again closer to the home market," Frank Sobotka, managing director of transport and logistics company DSV Air & Sea Deutschland, told DW.
Rising inflation
Shortages of raw materials and other goods and higher energy prices have pushed inflation in the euro zone and the USA to a multi-year high. This is worrying financial markets around the world. Many are worried that central banks will raise interest rates prematurely to rein in rising prices.
Experts at the European Central Bank (ECB) believe that prices are being driven up by temporary factors such as supply bottlenecks, higher energy prices and base effects. Once the effects of the global supply-demand imbalance subside, inflation will also cool, the ECB says.
However, supply chain disruptions are proving more stubborn than previously thought. Thus, inflation is expected to continue to run hot for most of 2022.
In the U.S., concerns are likely to be even greater. Here, inflation is being driven by the rapid economic recovery, massive fiscal stimulus, and labor and supply constraints. The U.S. Federal Reserve has announced that it will scale back its bond purchases at a faster pace and has held out the prospect of interest rate hikes in 2022. A Fed rate hike could spell trouble for some emerging markets, including South Africa, Argentina and Turkey, leading to renewed capital flight.
Tough crackdown in China
Slower growth in China, the world's second-largest economy, could exacerbate financial market concerns in 2022. The Asian economic powerhouse helped the world out of a pandemic-induced recession in 2020. It was the only major economy to grow last year. Growth of eight percent is expected this year, which would make China the fastest-growing major economy after India.
But the recovery is being held back by Beijing's crackdown on domestic tech titans such as Alibaba and Tencent, heavily indebted real estate companies such as Evergrande and Kaisa, and the private education industry. Senior Chinese officials have tried to calm nerves by saying that stabilizing the economy is their top priority for the next year. That fueled hopes for a fiscal stimulus in early 2022.
Moreover, Beijing's reluctance to abandon its zero-covid strategy, which has isolated the country for more than a year and resulted in draconian restrictions for even the smallest outbreaks, remains a major risk for the global economy.
Geopolitical tensions
Uncertainty also arises from the tense atmosphere between Russia and the United States with its European allies. In light of the massive Russian troop buildup on the Ukrainian border, Washington has warned Moscow against invading Ukraine. The U.S. and its European allies are considering further economic sanctions against Russia, including a halt to the controversial Nord Stream 2 gas pipeline, if Russia invades its neighboring
"Tensions between the U.S. and Russia are a major risk that could increasingly bring NATO's eastern allies to the brink of war," Edward Moya, senior market analyst at trade group Oanda, told DW. "If the U.S. and Europe stop the Nord Stream 2 pipeline, it could lead to a global energy crisis, pushing oil prices toward $100 a barrel. Rising energy prices could be the straw that breaks the camel's back, forcing central bankers around the world to tighten monetary policy more quickly," Moya said.
U.S.-China relations are also strained over Taiwan, as Washington warns Beijing against unilaterally changing the status quo over the island territory.
Washington has also angered Beijing with its announcement that U.S. officials will boycott the Beijing Winter Olympics in February over China's human rights abuses. In return, China threatened that the U.S. would "pay a price" for its decision.
Source: (
dw.com
)